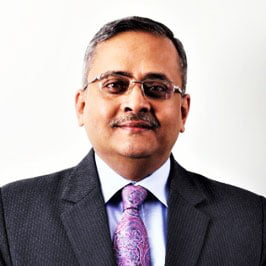 Jayant Krishna
Senior Fellow, CSIS, Washington, DC, & Executive Director, Public Policy, WF.
Former Director & Global Delivery Head for Life Sciences, TCS,
Former COO, NSDC.
Jayant Krishna has been appointed the Group Chief Executive Officer, UK India Business Council (UKIBC). He had previously led key initiatives of the Prime Minister's Skill India mission as CEO, and Executive Director & Chief Operating Officer of the National Skill Development Corporation (NSDC). Prior to this, Jayant was with the Tata group, India's largest conglomerate, for over two decades. A British Chevening Scholar, he held various leadership roles at Tata Consultancy Services (TCS), including Director, Life Sciences & Healthcare (UK & Europe), Regional Director (UK & Ireland), Regional Manager in London, Global Delivery Centre Head in India, and Global Relationship Manager for one of TCS's top five clients worldwide.
Earlier, Jayant was a management consultant at a division of Tata Sons and worked on interventions funded by the corporate clients, World Bank, UNICEF, UNFPA, and the government. He has also been Senior Fellow at the think-tank CSIS in Washington, DC and Executive Director, Public Policy at the Silicon Valley non-profit WF, focusing on Indian economic reforms. He has served on multiple committees of the Government of India, chaired several taskforces of the Confederation of Indian Industry, and is an Independent Director on the Boards of few companies.